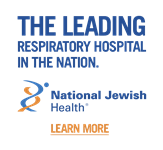 Gift Planning
Change a Patient's Life…With Your Estate Plans
Thank you for your interest in learning about different ways to support National Jewish Health and all the wonderful patient care and research we provide. "Gift Planning" is a great way to benefit you while also benefiting National Jewish Health. With gift planning you can:
Increase your fixed income
Supplement your retirement
Enhance your net estate
Create a personal legacy
Receive tax deductions
Avoid capital gains taxes
Provide income to your family
Give at the lowest possible cost
Begin My Giving Journey
I want to plan a gift based on my...
The information on this website is not intended as legal or tax advice. For such advice, please consult an attorney or tax advisor. Figures cited in examples are for hypothetical purposes only and are subject to change. References to estate and income taxes include federal taxes only. State income/estate taxes or state law may impact your results.
Contact Us
With more than 20 years of experience, Gordon Smith, MBA, CFRE can help with all your complex estate and gift planning questions.
giftplanning@njhealth.org
1.800.423.8891, Ext. 6523